About Us
Company Information 
With our experience in model-based development, a technology for controlling automobiles, we founded the agricultural IT venture company "Plant Life Systems Co., Ltd.".
As algorithm designers, we bring new technologies to agriculture to make it more attractive industry.
Our motto is to make agriculture more attractive by offering the latest technology in a form that everyone can use.
We believe that modern agriculture requires revolution rather than innovation. We will do our best to revolutionize agriculture with our technology and make agriculture a sustainable industry.

"Agriculture is an industry that everyone wants to be a part of, but why is not it profitable and why is the number of people interested in this industry decreasing?"
PLS started with this question.
Instead of continuing with conventional "farming" that requires experience and skill, we have focused on developing a system that allows people with no prior farming knowledge and businesses with no farming experience to make a profit from the "farming business."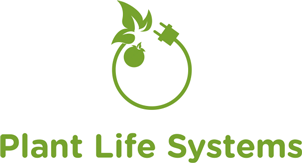 Imagine a world where plants can be harvested at the push of a button, just as you can plug in an electrical outlet to turn on the power. The logo of PLS shows the motif of a computer socket to symbolize this idea.
About us
Company name 

Plant Life Systems Co., Ltd. 

Establishment 

October 2014 

Capital 

803,500,000 yen (including capital reserve)

Representatives 

Representative Director Takayuki Matsuoka 

Head office 

5F Shin-Yokohama Union Building ANNEX, 3-24-5 Shin-Yokohama, Kohoku-ku, Yokohama, Kanagawa 222-0033 Japan
(Nearest station: 14 minutes walk from JR Shin-Yokohama station)
There is a coin-operated car park nearby which can accommodate 257 cars. 

Phone number 

045-565-9592 

Email 

support@plantlife.jp 

Development farms 

Toyota city, Aichi 

Our banks 

Sumitomo Mitsui Banking Corporation
Mitsubishi UFJ Bank 

Our business 

Development and sale of IoT systems based on growth algorithms,
Guidance on the cultivation of Ai-Rich Farming Method®.

Office of the General Counsel.
Associated companies
History 
| | |
| --- | --- |
| October 2014  | Establishment of Plant Life Systems Co. |
| January 2015 | Ministry of Internal Affairs and Communications [I-Challenge!] Adopted in 2014. |
| March 2015 | Capital increased to 38.5 million yen |
| April 2015 | Ministry of Internal Affairs and Communications [I-Challenge!] Continued adoption in 2015 |
| December 2015 | Capital increased to 53.5 million yen |
| April 2017 | Capital increased to 129 million yen.  |
| June 2017 | Started selling KIBUN® tomatoes. |
| September 2017 | Certified as the first Yokohama Intellectual Property Mirai Company in 2009. |
| September 2017 | Grand Prize at the Mitsubishi Research Institute Business Idea Contest. |
| October 2017  | Capital increased to 169 million yen.  |
| May 2018  | Capital increased to 215.25 million yen  |
| December 2018  | Recognised as a Yokohama Intellectual Property Mirai Company in 2008. |
| August 2020  | Received the Mynavi Agriculture Award. |
| April 2021   | Certified as a Yokohama Intellectual Property Mirai Company in 2021  |